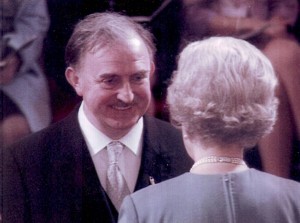 This morning I was invested as an Officer of the Most Noble Order of the British Empire  by Her Majesty The Queen at Buckingham Palace. I was accompanied by my wife Kerry and my mother Jane.
Appointment to all Orders of Chivalry was confined to those of noble birth until well into the 19th Century. After this however, it was felt that the honours system should be more widely applied.
In1917,during the Great World War, no suitable award existed to reward the large number of people doing outstanding work in hospitals, munitions factories, war depots, army headquarters and communication areas.
Similarly no awards existed for the lower ranks of the Services,other than for deeds of gallantry. Many of this group deserved reward but did not fit into the existing honours system.
King George V solved the problem by instituting a new order ofchivalry:The Order of the British Empire. This order was open to everyone.
In 1918, the Order was separated into Civil and Military Divisions and is now used as a reward for an even wider range of activities. In peace time it is given for distinguished service to the arts, literature, science and sport.
It is also awarded to members of the Merchant Navy, the Special Constabulary,those doing charitable work in welfare organisations and to State servants.