This evening was the first AGM of the Grand Unionist Centenary Committee, formed on 5th November last year. I had attended it regularly every month but had now decided to stand down as chairman as there is a conflict of interest with my chairmanship of the Somme Association. I formed this Association in 1990 strictly as a cross community Project, and felt that the GUCC should have nationalist representation even as observers   Carol Walker and I will therefore ourselves attend the Committee as observers only. I will report this back to the Trustees of the Somme Association tomorrow.
 My friend Captain OWJ Henderson of the Ulster Unionist Council was buried yesterday and I think that with his passing, the Unionist Party itself has suffered a great blow from which it may never recover. The leadership of the UUC in the GUCC is therefore very much in doubt. Indeed the Committee have decided to drop the appelation Grand from their title, and will be now known as the Unionist Centenary Committee, with David Hagan as Chairman. . Next year I will become High Sheriff of Belfast and will continue my efforts for an inclusive decade of Centenaries by the formation of a Posse Comitatus.
Captain OWJ (Bill) Henderson, was proprietor of the News Letter in Northern Ireland for over 30 years and a member of a family which was directly associated in the ownership of the newspaper since 1804.. He was aged 86. He is pictured with me at the back of our group at the top of the Ulster Tower, Thiepval, France in 1989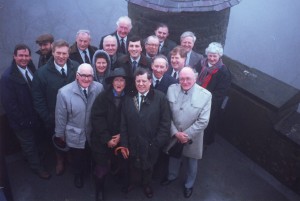 Capt Henderson, an ex-Irish Guards officer in the Second World War, combined the roles of managing director and chairman of Century Newspapers from 1959 until 1991, when the paper moved into new ownership.
The Henderson family were the publishers of the News Letter for most of two centuries.
Capt Henderson, who is survived by his wife and three daughters, headed up operations from 1947 at the paper's Donegall Street premises in the centre of Belfast.
In 1965, Century Newspapers, under Capt Henderson, established the Sunday News, the first Sunday newspaper published in Northern Ireland.
He was also a founder shareholder and director of Ulster Television.
Capt Henderson was a member of the Ulster Unionist Party in east Belfast, and from 1953 to 1958 he was MP for the Victoria constituency in the former Stormont
Read more: http://www.belfasttelegraph.co.uk/news/local-national/northern-ireland/former-news-letter-owner-henderson-dies-at-86-14984892.html#ixzz1u5l2G96A