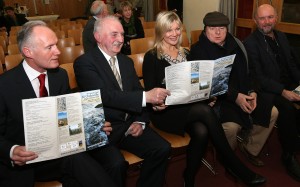 Tonight at the Linenhall Library ,Belfast, accompanied by my friends Suzanne, George and Malcolm Mc Clean, I launched a new cultural and tourist trail linking Ireland and Scotland.
Slí Cholmcille, the St Columba Trail is named after St Colmcille or Columba, an important figure in the Christian Heritage of Ireland and Scotland.
The Slí or trail stretches from Gleann Cholm Cille in Donegal to the Western Isles of Scotland. There are nine interlinked routes including one in Derry~Londonderry and another between Coleraine and Limavady.
An online resource www.colmcille.org offers maps, images and information on St Columba and the places that he and his Christian followers journeyed to. It is hoped that this online resource will inspire modern day pilgrimages to these historical sites, and create a new visitor experience for tourists in Northern Ireland, Ireland and Scotland.
From the 2nd February to 9th March 2012, the Linen Hall Library in Belfast will have a display on the trail and an exhibition inspired by Amra Choluim Chille, a Gaelic poem about the life of Colmcille. Both the trail and the exhibition celebrate our heritage in a creative and innovative way.
The trail is funded by Foras na Gaeilge, Bòrd na Gàidhlig and the Heritage Lottery Fund.