Today I attended the Garden Party at Áras an Uachtaráin at the invitation of President Michael D. Higgins and  Mrs Sabina Higgins. I was accompanied by my friend Liam Logan, Chairman of the Ullans Academy.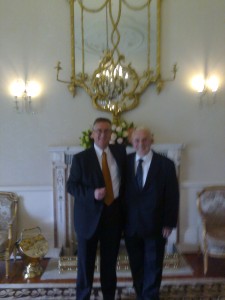 Remarks of President Michael D. Higgins
 at the Twelfth July Garden Party
 Thursday 12th July 2012
Dia dhíbh a chairde, Sabina and I would like to welcome you and thank you all for coming to the Aras today – céad míle fáilte go gach duine atá anseo.
 I hope you have all been having a good time and enjoying the wonderful formal gardens which are looking at their very best, the very talented entertainment and the delicious food.The theme of this evening's garden party is North/South co-operation and it is wonderful to see gathered here so many people from both sides of the border who have come together in a spirit of friendship and enjoyment. Occasions like this one are an uplifting reminder of just how far we have travelled in recent years on the road to peace on this island. They are a true celebration of the breaking down of the barriers which has been achieved, barriers which once created so much heartbreak and strife for so many individuals and so many families on the island of Ireland.  
Of course these barriers did not come down easily or quickly or without patient engagement, huge support and critical teamwork from many dedicated people – people in politics, people in business, people in the community sector.Last year my predecessor President Mary McAleese said:- "We have gathered here each year as the sons and daughters of all the politics, faiths and perspectives which live on this island, in a spirit of hope that we are capable of "filling the centuries' arrears" and that we can between us build and sustain a peace that offers respect, equality, dignity and space to all traditions, all people." That is the purpose of events such as this. 
They were barriers that were dismantled slowly and patiently by individuals and communities who worked with tenacity, determination and great resolution in order to achieve a dispensation designed to be inclusive of everyone on this island – an agreed Ireland where every citizen would be allowed to fully participate and treated with respect. Much of this work was done quietly, behind the scenes, and without thought of honour, praise or glory. It took place over very many years, was sustained through many setbacks and was often undertaken at considerable sacrifice to the individuals concerned.
Just over a year ago we welcomed Her Majesty, Queen Elizabeth and His Royal Highness, Prince Philip to this part of the island. It was a hugely symbolic occasion, an historic milestone and a proud demonstration to the world of the new, equal and friendly relationship that now exists between Britain and Ireland.The inclusive nature of the formal courtesies during Queen Elizabeth's recent visit to Northern Ireland also represented a welcome step forward.  I was delighted as co-patron with Her Majesty Queen Elizabeth II to accept Co-operation Ireland's invitation to celebrate with artists the ongoing contribution of artists and cultural workers to our common shared future. 
During that latter visit, I was struck by the generous comments made by Alan McBride who lost his wife and father in law in the Shankill bombing. While welcoming the gesture of handshakes and understanding their symbolic importance, Alan also made an eloquent plea for all sides to get on with the practical, day to day business of consolidating peace, dismantling sectarianism and embedding reconciliation on the ground and across communities.        
 This is the crucial work on which you and your organisations are involved in on a daily basis. This work requires long–term commitment, stamina and resilience;     I commend you for all that investment of effort and encourage you to keep moving forward on that journey to a shared future.  We are, and indeed should be, very proud of what we have accomplished thus far.  It is important, however, that we do not become complacent; that we do not inhabit a false comfort zone of amnesia; that we do not allow a younger generation to grow up unaware of the horrific consequences of the suspicion, division and violence that polarised communities in Northern Ireland for several decades; and that we do not permit those with malign agendas to rewrite history and perversely undermine the progress we have made together towards the great prize of peace that has been achieved.
That is why it is so important that the forthcoming decade of centenary commemorations is used in a way that genuinely deepens our understanding of our shared past; that acknowledges the complexities of competing aspirations; and that respects the views and perspectives of the historical protagonists. Respecting and learning from the past, we have it within ourselves to craft a future founded on equality, inclusion and mutual understanding. In working for this future, we must continue to be the active agents of change – the arrow and not the target – as we broaden and deepen the networks of friendship that have developed over recent years. So much of what we have achieved would not have been possible without the dedication and perseverance, over many years, of many of you here this evening, and of your predecessors; and indeed of my own predecessor, Mary McAleese and her husband Martin. It is work I will endeavour to continue and build upon. 
I would like to conclude by thanking all those who have worked so hard on behalf of the Áras to make this a wonderful occasion for you. A big thank you to our MC Aine Lawlor and also to Edel & Alide,     Ian Gould, Rams Pocket Radio and Comhaltas for the outstanding entertainment they have provided this evening.One of the things that gives me great hope about the future is the depth of artistic talent and creativity that exists across the island of Ireland and our entertainers today are a rich illustration of that fantastic resource. You all have enhanced the enjoyment of today with your verve, talent and enthusiasm, for which I thank you most sincerely.  Sabina and I are looking forward to seeing you perform in a few moments. 
A big thank you, also, to the staff here at the Áras, to our friends in    St. John of God's, the Civil Defence, the Gardaí, the tour guides, the OPW and all who have worked so hard to make today an occasion of friendship and joy. Sabina and I hope you have a great evening. Enjoy the rest of your time here and thank you for coming.
Go raibh míle maith agaibh go léir.