Minister Arlene Foster invited me to join her today for a pre-theatre reception and river cruise followed by the UK and Ireland premiere of Samuel Beckett's Krapp's Last Tape at the Happy Days Enniskillen International Beckett Festival. 
The evening  began at 18:30 on board the Smeraldina, moored just off the Ardhowen Theatre car park. There was a reception onboard while we were taken down the river to the Festival Centre at Enniskillen Castle where we experienced, amongst other things, the Reel Inn with traditional music and the Firing Range Barbeque.
We  returned to the Ardhowen Theatre for 20:15, so we could take our seats before the evening's performance commenced at 20:30.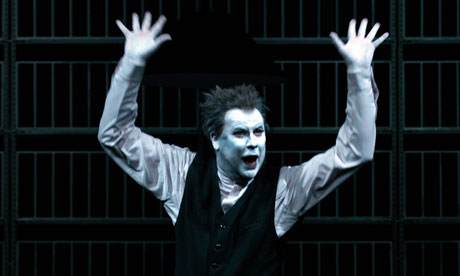 Daringly glacial … Robert Wilson in Krapp's Last Tape.White-faced, open-mouthed, and spattered with shards of white light, Robert Wilson's Krapp might already have passed over to the other side. His performance, in his own production of Beckett's play, seems spooked, full of sudden starts and backward glances. Anyone worried that Beckett might have been getting a little sentimental in this memory play, in which a 69-year-old man listens to tape recordings of his younger self, will be reassured by Wilson's determinedly chilly staging.
This production, the centrepiece of Enniskillen's inaugural
International Beckett festival
, was an intriguing prospect. How would this text by the master of minimal interplay of words and silence fare in the hands of the American director who likes to experiment with imagery on a vast scale? True to form, Wilson has expanded the setting: the stage is a deep black-and-white bunker, with illuminated rows of shelving, suggesting an audio library. Everything is sharply defined, in sleek monochrome, relieved only by Krapp's red socks – a clownish touch – and the banana he swallows in ritualised movements.
Before any words are spoken, the startling opening sequence has a soundtrack of thunder and lightning, projected in vertical shards of light. It is cacophonous, while Krapp's febrile figure is illuminated in frozen poses, his face a silent scream. All his gestures are writ large; this could almost be archive footage from a silent movie about a crazed inventor. Perhaps in reference to Wilson's production of Einstein on the Beach, his face here – pale, wide-eyed with a shock of powdered hair – recalls
Arthur Sasse's photograph of Albert Einstein
.
As director, Wilson's command of the visual and sound design is superb, and audience attention is rapt as Krapp finally moves towards his desk, to start the slow investigation of his notebooks and the spools of tape recorded in years past. Listening to the confidently deeper vocal tones of his 39-year-old self, he yelps and screams, entering into a dialogue with the younger Krapp, mocking his artistic ambitions. Squeaking and cackling as he listens to a taped recollection of the end of a love affair, he has a manic edge that seems to defy emotion, yet is affecting in spite of that. Something in his proud frailty recalls King Lear on the heath.
An unsympathetic, daringly glacial interpretation, it is highly effective and at times disturbing. Yet other sequences, like one in which Wilson dances away from the desk in a slow sideways shuffle, or a courtly prance, seem mannered. These dilute the intensity of Beckett's investigation of memory and fragmenting identity. For all this, when Wilson takes his bow, still in character, there is a sense of having experienced something more unsettling than any previous Krapp. 
Legacy: Samuel Beckett, icon of Modernist disenchantment
This international festival celebrated the work of writer Samuel Beckett in the town where the Nobel Prize winner went to school and was the first annual world event to do so.
Enniskillen in Co Fermanagh, Northern Ireland played host to a diverse, five-day programme of events to mark the life and times of the avant-garde poet, playwright and author.
In one of the more noteworthy performances of the Happy Days festival, David Soul of Starsky And Hutch fame read some of Beckett's works.
The actor, who played detective Ken Hutchinson in the popular 1970s TV show, is a long-time admirer of the Irish writer.
Authors John Banville and Edna O'Brien also made appearances on stage as well.
And the festival is set to close in the grandest style on Monday when renowned opera singer Ruby Philogene performs.
Philogene is married to Sean Doran, the Irish-born artistic director who has organised the festival.
The director, who lives in Australia but has based himself in Enniskillen for the last five months to plan the festival, said the events would reflect the many facets of Beckett's artistic achievements.
"Beckett is often seen purely as literary, what with his play Waiting For Godot, but he actually starred in a film with Buster Keaton, he wrote a dance piece and TV plays and he also had a big interest in classical music," he said.
"So the festival is very much multi-arts."
Beckett was a keen sportsman and the festival acknowledged this with a series of lighthearted athletic endeavours.