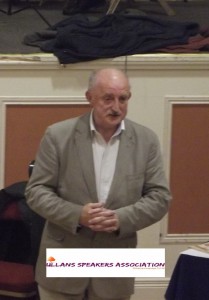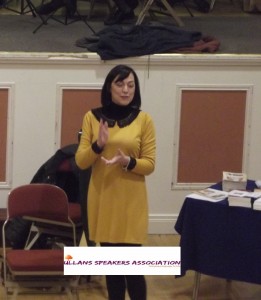 Anne Morrison-Smith
Tonight, as Patron of the Ullans Centre, Ballymoney and President of the Ullans Academy I spoke on  the Ulster Scots origins of the Dervock-born long distance runner, Kennedy Kane Mc Arthur,  who won Olympic gold for his adopted South Africa. I was invited by Gary Blair of the Ulster Scots Agency and Anne Morrison Smith of the Ullans Centre who were publishing a book on the great athlete on the Centenary of his medal triumph.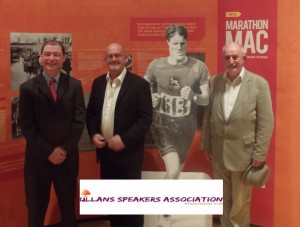 Keith Beattie, Gary Blair, Kennedy Kane McArthur and myself
He was over six foot tall, smoked a pipe and ate chips for breakfast – not your typical Olympic gold medallist. Described as the 'golden boy' of the 1912 Olympic Games in Stockholm, the County Antrim marathon runner Kennedy Kane McArthur overcame weight, height and, evidently, respiratory problems to win gold for his adopted country of South Africa – and help write a unique chapter in the history of track and field athletics.
The African continent has since produced its fair share of Olympic marathon winners (three of the five last gold medallists have come from Kenya, Ethiopia and South Africa), but none like the bulky, blonde-haired McArthur, born of solid Ulster Scots stock.
In the summer of 1912, McArthur came through a tortuous 42,195 metre marathon run to snatch victory from close friend and South African team-mate Christian Gitsham and the American Gaston Strobino.
It was McArthur's first Olympic medal and, tragically, it would be his last. One year later, an accident involving a skateboard, a rope and a moving vehicle literally stopped McArthur's fledgling career in its tracks. He never ran professionally again.
McArthur developed a love for running whilst working as a postman in Dervock – where he delivered his round on foot and at some speed – before emigrating to South Africa in 1901, at the age of 20.
McArthur came to professional sport at a late age whilst working as a security guard. According to Keith Beattie, manager of Ballymoney Museum, who showed us his fine exhibition on McArthur, 'he was just after a good run and a good feed'.
Following his victory, McArthur returned to live in Dervock with his South African wife. The Northern Irish climate did not agree with his better half, however, and the McArthurs settled in South Africa, where McArthur died in June 1960.