The island of Ireland was on the cusp of Home Rule towards the end of the Edwardian period. Only the determined opposition of Ulster unionists and their allies in Great Britain prevented this from occurring. Loyalists exhibited genuine feelings of besiegement and isolation between 1912 and 1914 and many observers believed Ireland was, by the summer of 1914, on the verge of civil war.
On the eve of the centenary of perhaps the most significant event in Ulster during these two years – the signing of Ulster's Solemn League and Covenant – this book tells the story of Ulster's organised resistance to the Third Home Rule Bill, and in particular assesses the nature and degree of success of unionists' political campaigns. The central focus of this book is the vital interdependence of Ulster unionists and the British establishment during the late Edwardian period. It analyses the true nature of this relationship and also examines the significance of key events during these crucial years of Ulster's resistance to Irish Home Rule.
I attended the book's launch tonight in the Christ Church Library, Royal Belfast Academical Instiution, so beautifully restored by my old friend Fionnuala Jay-O'Boyle. The treatise is by Alan Parkinson, son of John, first president of the Belfast Titanic Society who it was my great pleasure to meet in the City Hall when I was Lord Mayor of Belfast. Guest speakers were Lord Bew of Donegore and Mr Mike Nesbitt MLA, although the author's approach is essentially nationalistic in tone, introduced as the book is by Eamon Phoenix. I was pleased to meet my friend, one of Ulster's finest Unionist intellectuals, Andrew Charles there.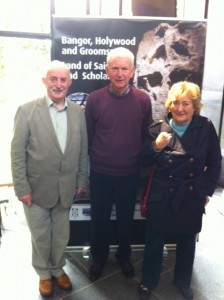 Myself, John Carson, St Patrick's Centre Chairman and Maureen Donnelly
In the morning I had spoken myself on "Another Look at St Patrick and the Valley of the Angels", at the request of Dr Tim Campbell at the St Patrick's Centre in Downpatrick. One of the audience was Maureen Donnelly of the Donard Publishing Company, who had published my first book, The Cruthin.