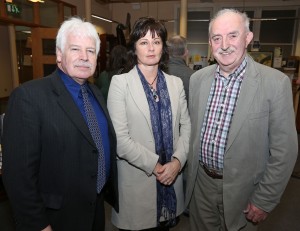 The Other Irish
The Scots-Irish Rascals who Made America
What do Davy Crockett, Mark Twain, and Neil Armstrong have in common? They are descendants of feisty Scotch-Irish immigrants who travelled the ocean to the New World in the 1700s.
Rebellious, independent, and fervently religious . . . thousands of immigrants with grand dreams sailed from Ireland's northern harbors to the New World  and tamed the American Frontier. Now Karen McCarthy reveals the many contributions these renegade Other Irish have made since they arrived, including settling the wild frontier, running moonshine into auto racing history, and launching a new world order.
Publisher: New York: Sterling (November 1, 2011), Hardcover, 384 pages, ISBN-13: 978-
With Sammy Douglas MLA, I was forwarded an invitation by Micheál Smith of the British-Irish Intergovernmental Secretariat sent by the Governors of the Linen Hall Library to cordially invite me and my guest to the launch of The Other Irish The Scots-Irish Rascals Who Made America by Karen McCarthy tonight at the Linen Hall Library,17 Donegall Square North, Belfast, BT1 5GB.
The book was launched by the Irish Joint Secretary, Barbara Jones, of the British-Irish Intergovernmental Secretariat.  I attended with Helen Brooker, Chair of the Belmont Tower Preservation Trust and a member of the Ullans Academy, with whom I am working on her Heritage Outreach Programme at the Belmont Tower.