NewBelfast.com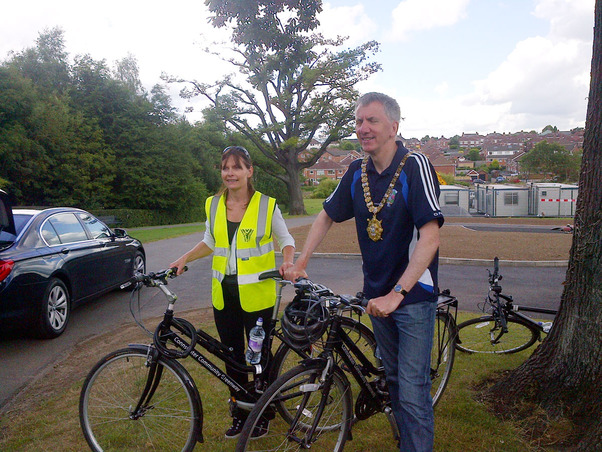 Máirtín Ó Muilleoir with Wendy Langham of Connswater Greenway 
If you really want to see the city of Belfast, get on a bike. And if you really want to see the soul of Belfast, listen to its artists.
I did both this week.
The visionary folk at the Connswater Greenway invited me to cut across East Belfast — from Orangefield where the east starts to rise to the Castlereagh hill to Victoria Park on Belfast Lough — by bicycle. Getting on a bike in itself for the first time in three decades was liberating but the journey through the 'heart of the Empire', the first in my 53 years, was both moving and revelatory.
The £43 million venture to revive and respect the Connswater River, making a community treasure of a forgotten tributary, is transformational. It will make it possible to bike, jog or stroll along a picturesque riverbank where now there is only a rubbish-strewn waterway. In pure construction terms, it's a big project but it's the scale of the ambition of the wise men and women of the east who have championed this plan which really impresses me.
Many of those who have our roots in the west of this great city don't know the east except through the evocative songs of Van Morrison so it's a special thrill to ride the route of the Connswater Greenway and pass through the streets which were his muse. I have now been to the hollow of the Brown-Eyed Girl — "Down in the Hollow, Playin' a new game" — behind Van's childhood home in Hyndford Street and will never hear that song in the same way again.
Big thanks to my outriders former Lord Mayor Gavin Robinson and Wendy Langham, driving forces behind the Connswater, for making my visit possible. 

Máirtín Ó Muilleoir at the launch of the East Belfast Arts Festival (right) and with Heather Chesney of East Belfast Arts Festival and Naomi Long MP 
My passport stamp to the east allowed two visits so I was delighted to do the honours at the launch of the East Belfast Arts Fest in the Strand cinema on Thursday. In just its second year, the east carnival is already garnering plaudits for the excellence of its programme and the verve of its performers. And of course, it's sending out the message that the dividend of the peace transforming Belfast must also come through the arts.
For you can't really know Belfast until you've
Been "Caught one more time up on Cyprus Avenue" with Van Morrison
Shed a tear at Joby Fox's anthem for yesterday's 'Belfast" — "you're my heaven, you're my hell"
Been p-checked by a squaddie on the Falls with Gaeilge poet Gearóid Mac Lochlainn
Called your Brother Back with Michael McLaverty
Been bewitched by CS Lewis
Or
Knelt before your foe, like the Greek god of Michael Longley's 'Ceasefire', to sue for peace. 
Stay in touch at my website www.newbelfast.com.