Blog of Belfast's Lord Mayor, Máirtín Ó Muilleoir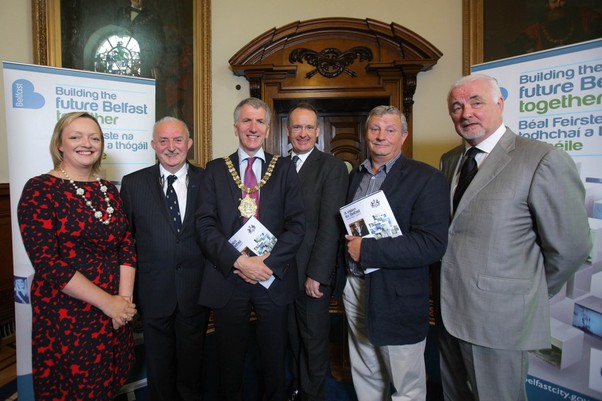 Former Lord Mayor of Belfast and Ullans Academy founder Dr Ian Adamson uttered the four most beautiful words in the English language at the launch this morning of my Vision for Belfast (he repeated the words in Irish where they are the most beautiful in that tongue too).
"The war is over," went one line in a special poem he penned for the occasion, "Tá an cogadh thart."
Ian's moving ode to a peaceful Belfast was but one highlight among many as five of our outstanding civic leaders lined out to endorse my call to Build the Future Belfast — Together.
ICTU General Secretary Peter Bunting gave voice to the workers when he demanded an end to unemployment; Maze-Long Kesh Panel Chairman Terence Brannigan vowed to do everything possible to assure all could enjoy the dignity of work; Howard Hastings, Chair of NI Tourist Board pledged more 'wow' moments like the World Police and Fire Games, while Mary Trainor-Nagele, CEO of Arts & Business welcomed the appointment of the first-ever Belfast Poet Laureate — Sinéad Morrissey.
You can read the fine detail of the Vision online and while this isn't everything we'll do in the time ahead, there's a fair bit crammed in there for the remaining 43 weeks and five days (not that I'm counting) of my term. If I had to summarise: the Vision is about belief in Belfast, confidence in the people of Belfast, boundless ambition for our future and a determination to deliver a peace dividend for all.
And that peace dividend will be for all. As Belfast Poet Laureate Sinéad Morrissey read us out with Cycling At Sea Level from her collection 'Through the Square Window' (and Waterstones note: you had only two volumes of Sinéad's poetry on the shelves this morning, both are now gone), she went toe-to-toe with Ian Adamson with her own tribute to the peace:
"this single moment framed, what passes under a wheel's
circumference,
or the curlew's vanishing question in the sand:
for me, for me, for me?"
Since the launch of the Vision for Belfast, I have had the thrill of attending the opening of the World Police and Fire Games and the good fortune to be invited over to the Shore Road to meet with community builders working at the very coalface. My visit was hosted by Heather Morris, the first woman President of the Methodist Church in Ireland and among those I met was Alison Clarke whose teenage son Dean took his own life in 2007. Since then she has set up a the Dean Clarke foundation which provides opportunities for young people who find themselves on the margins. An inspirational woman.
Stay in touch at my website www.newbelfast.com.