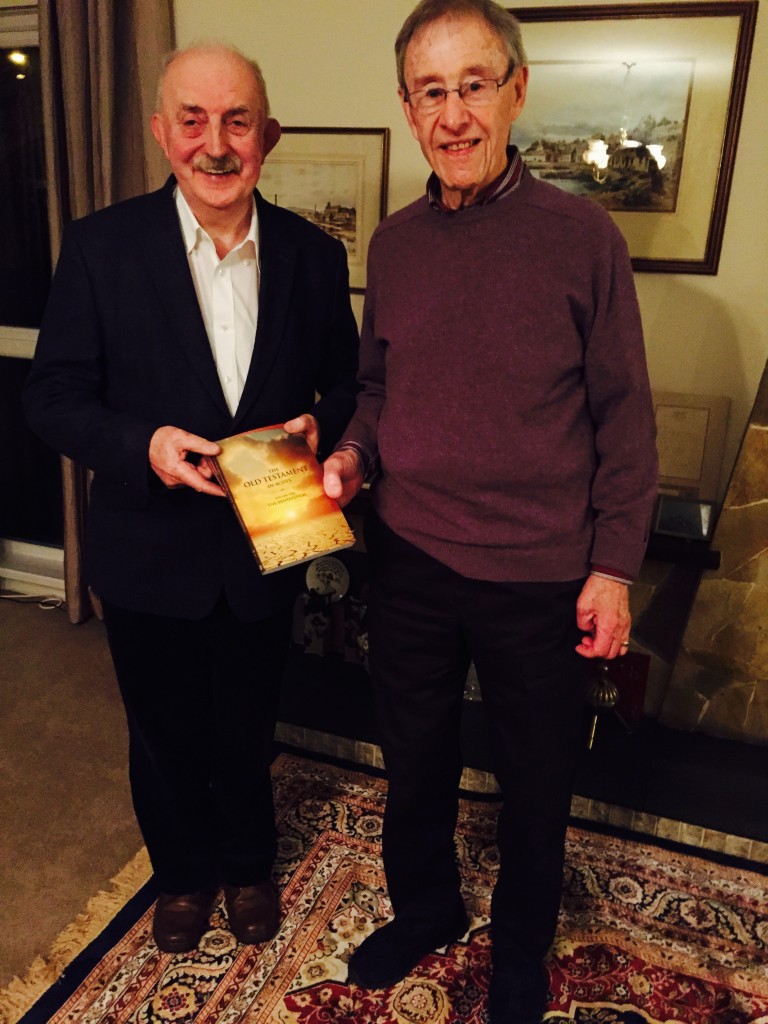 Tonight I attended a Burns Night Supper with my friends Kathleen and Edmund Irvine at their home on the occasion of Maria moving to England. It was attended by the wider family circle and friends. I presented a copy of the Bible in Plain Scots to Herbie Irvine from Toronto to bring back to Canada, which has received so many emigrants from Ulster over the years. Scots was the vernacular of our native village of Conlig and the surrounding area of North Down and Ards (Ancient Dal Fiatach) when we were young. Herbie looked after me when I brought "The Cruthin" to Canada in 1974 and gained publicity in the media for me there. He and his late wife Joyce were among my oldest friends.
During that time I thought of the British Empire Loyalists when I stood at the memorial in Philadelphia to the unknown British Soldier of the Revolutionary War, which I was shown by my friend Paul Loane. For as many as one in three Americans had remained Loyal to George III. But in 1783 Britain finally signed a treaty with its rebellious American colonists, abandoning tens of thousands of people who were still deeply attached to the British crown. To the 12,000 refugees who had fled from the Rebels to make a new home in the swamps of Florida it was a disaster. As it was, too, for the 20,000 Black slaves who had rebelled against their masters to fight for the King.
From the Southern ports of Charleston and Savannah alone, fearing dreadful reprisals, more than 20,000 loyalists, slaves and soldiers were evacuated by the Royal Navy. In New York City, originally Iroquois Mohawk territory and the heartland of Loyalism, 30,000 people left for new lives in the Maritimes and Nova Scotia, while 2,500 travelled to Quebec and the Bahamas. This was the largest civilian evacuation in American history. There they created their "own imperial answer to the United States" and a "Loyal America in contrast to the republican America they had fled". It became known as Canada, Kannata in Iroquois  meaning Village or Settlement.
In 1872 Lord Dufferin of Clandeboye became the third Governor General of Canada, bolstering imperial ties in the early years of the Dominion, and in 1884 he reached the pinnacle of his diplomatic career as eighth Viceroy of India. His statue, with a Canadian Trapper on one side and an Indian Sepoy on the other, sits in the grounds of the City Hall Belfast. I used to look out at it from my office as Lord Mayor of Belfast and latterly from the High Sheriff's office. My friend, Lady Lindy Guinness, the last Marchioness of Dufferin and Ava, is very proud of her ancestry from him. I have visited her often to speak of matters historical, and it was at her home many years ago I first met Van Morrison, Robert Kee and her then Chef Stephen Jeffers… She is descended, of course, from the ancient Cruthin kings and queens of Iveagh and the ancient British kings and queens of Albion, that country of perfidious renown.
In Africa, Loyalist exiles also established what was meant to be a utopian settlement, built by 1,000 Black slaves who had escaped to Canada, but who wished to built a new life in the land of their ancestors. Partly organised and funded by Abolitionists, the new settlement of Freetown, however, eventually became yet another British Colony, Sierra Leone, run by white men for their own benefit, its history stained by endless riots and rebellions. Yet Freetown's story was more than a chronicle of broken promises and false hopes. For the people who settled there achieved a greater degree of freedom than they could have had or probably still have in the United States of America. In a sense the American Loyalists were victors after all.